This is how we do RPA - software robot the BCA way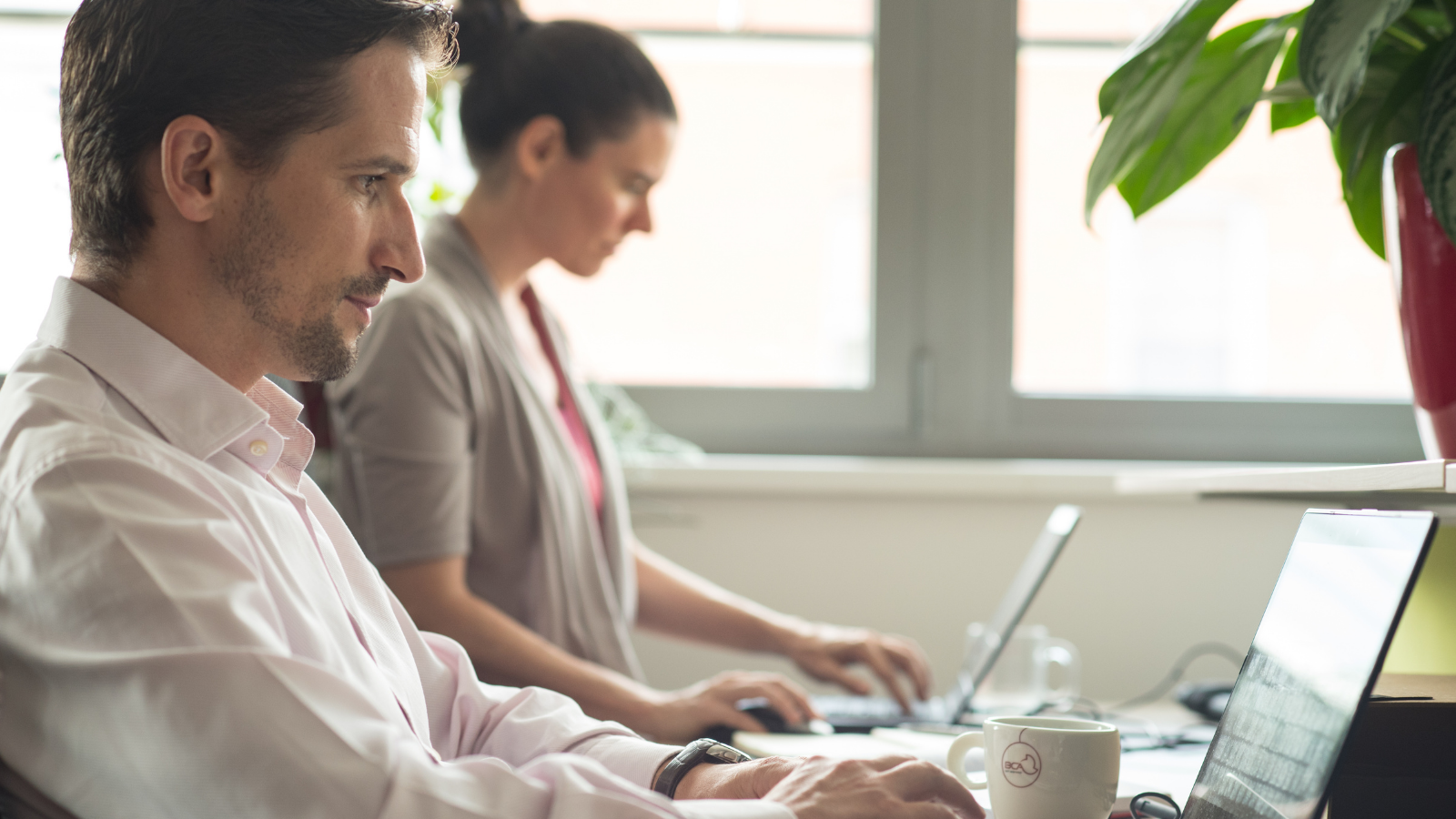 Step by step from the introduction to a working software robot and to the possibility to automate further processes with RPA.
Although more and more companies are realising the potential of RPA (Robotic Process Automation), our experience shows that many still think it is too complex and requires too much investment, and therefore prefer to forgo it. In fact, there are only a few easy steps to take and when it comes to a well thought-out and prepared process, you can have your first software robot up and running within 2-2.5 months after the start. Let's see how we at BCA do RPA!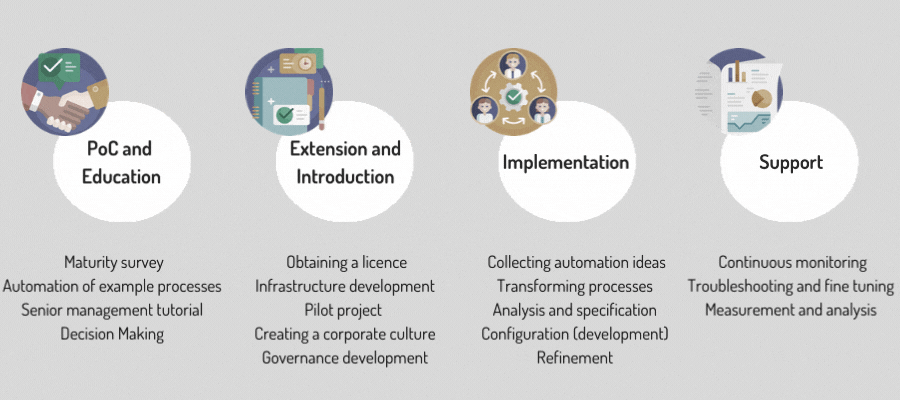 Phase 1: Proof of Concept and Education
When we are approached about a software robot, the first task is always to assess the RPA maturity of the business and of course the expected business benefits of its implementation as a first step in a Proof of Concept (PoC) mini-project. We find out what the relevant decision-makers and colleagues know about the solution, and then show them what RPA is really about, how the software robots work and what they do.
We also let you know what to look for when choosing processes to robotise and what results they can expect from automation. Although this may seem like a lot of information at first, in practice this step can usually be done in 1 or 2 workshops of about 1.5 hours. From the first PoC presentation meeting, colleagues leave with a small homework assignment, each business area involved should look for 2-3 processes or process details that they think can be automated well.
In the next step, the selected processes are discussed and evaluated from an automation point of view. Although the efficiency increase and return on investment are already important here, during PoC we recommend that robotisability should be the primary selection criterion, so that the colleagues working at the customer's site can understand the operation, advantages and possible limitations of software robots as well as possible.
We then automate the selected processes and their details in close cooperation with the client's staff. This takes only a few weeks, but by the time this phase of development is completed, our partner can experience first-hand what it means to have a software robot running in their business.
At the end of the PoC, we give a presentation to the client's senior management, during which the BCA professionals can remain in the background, because by then the partner's staff working with us understand and see what RPA is about and what it can mean for their company. Then, based on the facts and experience gained with the software robot in the test system, the big decision can be made as to whether the organisation is ready to implement this type of automation.
Phase 2: Extension and Introduction
Once the RPA is green-lighted, we will obtain the necessary licenses - thanks to the GOLD partnership we can offer a discount to our partners - build the infrastructure, and then we will sharpen the code during a pilot project to make the software robots more efficient in business processes and provide more experience in robotisation.
Although the first robot in a live system is a very important milestone, the process of implementing RPA, of making software robots efficient, is far from over. In parallel with the sharpening, we will start to integrate RPA into the corporate culture, to create the process and technical possibilities to apply this tool to further processes, possibly also to other departments of the company - using our knowledge and experience in the field of RPA introduction, implementation and operation: Develop and finalise the operational model and governance of automation; Perform and support technology fine-tuning; Facilitate evangelisation from the management level to increase RPA awareness and commitment.
Phase 3: Implementation
We also create the conditions for the continuous collection of automation ideas to support business goals. Brainstorming starts with extensive education, because the best ideas often come from those closest to the problems - so it's important to give them the right knowledge and tools.
We are creating a platform where people from the company can share their ideas and the main features of the process they want to automate, with the aim of having all the information we need to decide whether it is technologically feasible and to make a preliminary calculation of which of the ideas are likely to bring the highest return on investment.
Increasing the engagement of colleagues helps to generate ideas. Gamification can be a good motivator - for example, you can continuously measure which ideas generate the most savings on a monthly basis and the inventor of the idea that achieves the best results can be recognised with some kind of gamification or even a very substantial cash reward. Of course, when implementing robots, it is essential that we also thoroughly understand and analyse the automated business processes, which requires very close cooperation between BCA experts and the client's staff involved in the processes. It is worth mentioning that in order to automate more efficiently, business processes typically need to be modified and fine-tuned. At BCA, we see RPA projects primarily as a business challenge, with a strong focus on improving business operations beyond professional implementation. That's why our project specialists are not only skilled in coding, but also understand and understand the business needs in their entirety, so our colleagues work on an RPA implementation with both business analysis and development in one hand, because we believe that this is the best way to serve our partners.
As a first step of the implementation, we will define the agreed process to be automated in the PDD (process/business plan) document, and prepare a detailed implementation proposal. Upon acceptance of these documents, we will start the development and configuration of the software robot, with a particular focus on improving business efficiency. The automated process will be tested together with the client's colleagues, followed by the live deployment of the software robot with the involvement of the operator's colleagues. During the implementation we follow and adhere to the UiPath recommendations in order to create future-proof, efficiently maintainable solutions - This is why we considered it important to achieve a strategic partnership with USN (UiPath Service Network) - the only one in Hungary - which shows our professional competence and excellence.
Phase 4: Support
Of course, even after a successful implementation, we will not let go of our customers' hands and support them in operating the software robot and solving any problems that may arise. For example, if for some reason the software robot stops working or malfunctions, we will investigate the cause of the problem, arrange for a restart as soon as possible and provide a temporary and long-term solution.
In addition to operational management and support for automated processes in live operation, their efficiency is also continuously assessed on demand. We measure the results, creating a structured data asset for the automated processes, ensuring up-to-date information is available on licence utilisation, transaction volume and trend analysis, hours saved and financial return, among other things.
Based on the experience gained, we initiate - and, if required, implement - the updating and fine-tuning of internal processes (Operating Model, Identification of Potential Processes, Implementation and Operation).
Are you wondering if there is a process in your company that could be automated? Have you been thinking about using a software robot but don't know how to start the project? Give us your contact details and our colleague will contact you!
---
Tags: #automation #rpa #softverrobot #uipath