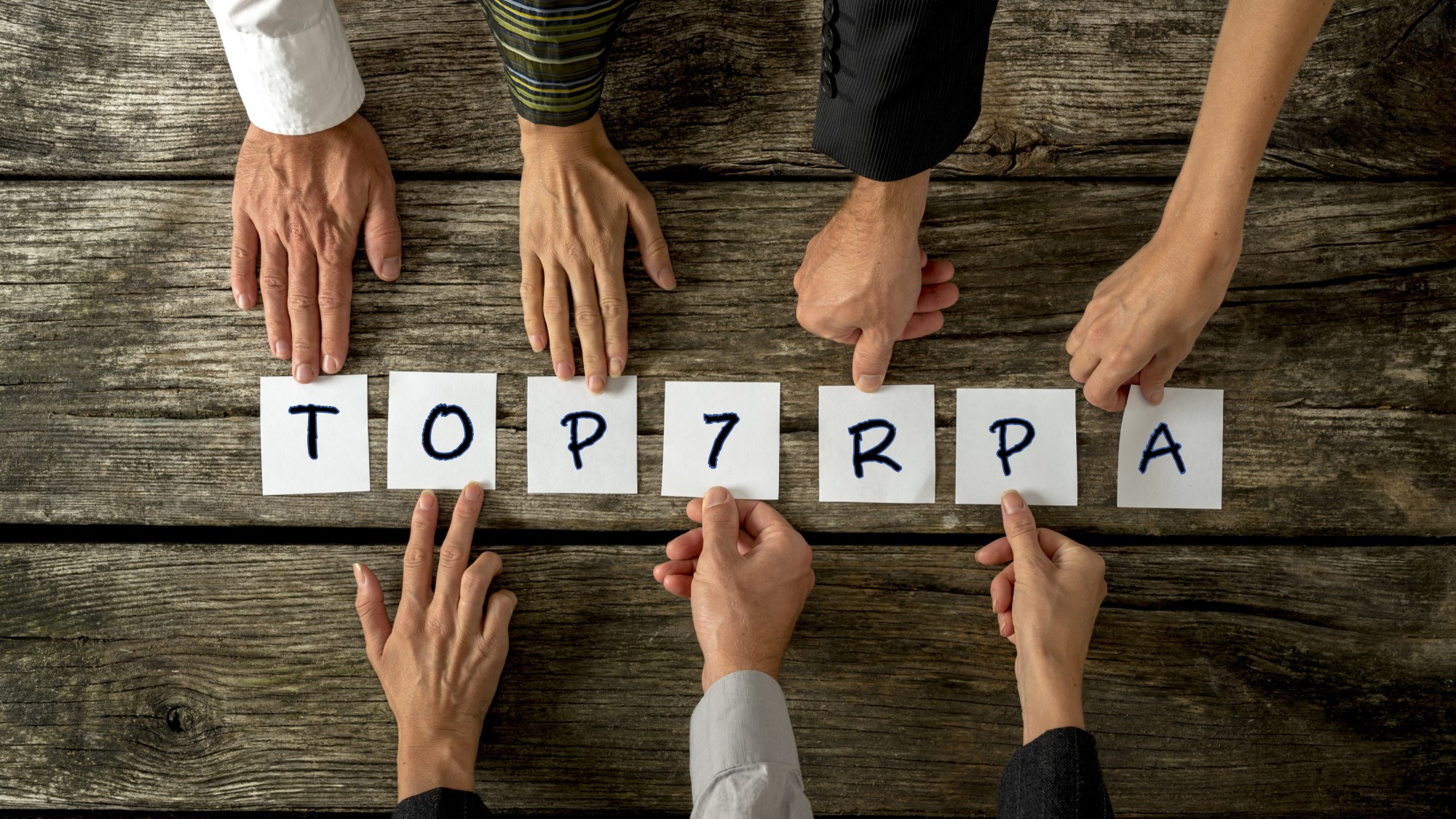 In our region and within all sectors Robotic Process Automation (RPA) is being adopted at an accelerated rate. Allow us to introduce the top 7 RPA use cases we have implemented so far.
Robotic Process Automation (RPA) is being adopted rapidly in our region - within all sectors.
Companies from telco, pharma and finance are all early adopters - yet when RPA is being discussed we are often asked which industries / processes are prime target areas: where can software robots be implemented the most effectively? On the one hand answering this question is difficult, pin-pointing a single use-case is not always helpful. On the other hand, it can be quite simple: from what we experience, very widely speaking, all IT system- and rule-based, repetitive processes can be taught to software robots – our examples below evidence this statement. We believe that all companies with an interest should undertake a short PoC (Proof of Concept) with the primary aims of determining what benefits can software robots bring to them specifically and under what conditions.
Nevertheless, let this topic be the subject of another blog post and now let us introduce the top 7 RPA use cases we have implemented so far:
1. Data recording, the classic one to be automated
The process selected for automation was a highly rule-based, repetitive, resource-intensive, continuously time-sliding one. Our client recorded hundreds of transactions per day to an AS400 terminal, reading it of paper and typing it in on a few screens. A seriously time-consuming and demotivating task for the colleagues involved. Creating the robot was relatively simple: it only took a few weeks. The robot caught up with several-weeks' worth of backlog in a matter of days. In addition, the most positive outcome of introducing the robot was increased motivation for its human colleagues: their time was freed up to focus on more challenging and value-added processes. The human colleagues really love Robi (because their new virtual colleague was named), he is considered such a team member that his birthday is also celebrated along with the others and sometimes he can also take a few days off, having worked so fast and error-free. :)
2. OCR based final check of invoices in SAP
90% of the forint-denominated invoices waiting to be paid are now content verified by a software robot at the K&H Group Service Center. Every morning, before the colleagues arrive, the automation queries all items waiting to be paid from SAP. The robot reads the related scanned invoices and certificates with the built-in OCR (Optical character recognition) engine. If all necessary and important datapoints are matched, the robot allows for the process to carry on - less than 10% of the items are forwarded for manual verification / processing. The robot runs every night, so in addition to freeing up colleagues from tedious tasks to allow them to focus on higher value-added activities, it does not even burden SAP at peak times. The cherry on the cake is that it saves them printing more than 40,000 papers annually.
3. Market research via geographical map search engine
A software-robot has been created to collect market / pricing data by traversing a map, stopping above the physical location of each service provider, reading and storing the related prices. Our customer – with this new robot – is much more aware of the market changes and shifts allowing for a quicker response with reduced human participation.
4. Identification of legal documents
Supporting the legal colleagues of a financial firm a robot has been implemented that identifies the incoming legal documents, stores and assigns them to a proper solution group after interpreting/understanding the data in them. The software robot processes both electronically generated and scanned documents - be it from the land registry, the court or any other legal source. The robot reads the main relevant data of the documents (including case number and customer identification data). After identifying these documents – a process for which multiple applications and tables need to be investigated - the robot stores the document with the proper tags, links to the case and solution group.
5. Annual certificate preparation in bulk
A certain certificate needs to be sent by our client to its corporate clients on request. Most requests come at the beginning of the year in bulk. Previously, the process would completely tie up the team for several weeks - now this task has been taken over by a software robot. The robot automatically creates the certificate, mails it to the client, accounts the service and debits the customer's account with the associated fee.
6. Bank accounts update every early night/dawn
For one of our clients, the challenge was that a significant part of the internal financial processes could only start during the day, because a prerequisite condition for starting these is that fresh account data is available – a scenario that put time pressure on the afternoons and evenings. To solve this, we have created a robot that retrieves the current account balances before work starts every morning, so that the affected internal processes can start early, levelling the workload.
7. Customer data verification with fuzzy search
When managing a new (retail or corporate) customer lead, one of the first and most important tasks is to get as much information as possible about the prospect customer. At the request of our client, a robot has been created that collects data from various sources (including white- and blacklists) using fuzzy logic. Why is fuzzy logic needed? Because the data on these lists are inaccurate and incompatible, but even in this case it is important to find our prospective client, so the search gives a probability percentage on how confidently it could match the customer with the records, in addition to the results, helping our customer's colleagues to analyze the information received as efficiently as possible.
In the last couple of years, we have consulted and implemented plenty of UiPath solutions in Hungary and across Europe. Follow us to learn more about Robotic Process Automation.
---
Tags: #rpa; #top7; #uipath #automation #robotization #bots #process